PPCWorkshopIndia is excited to bring a 2 – Days PPC Workshop event in Bangalore (NOV 16-17)!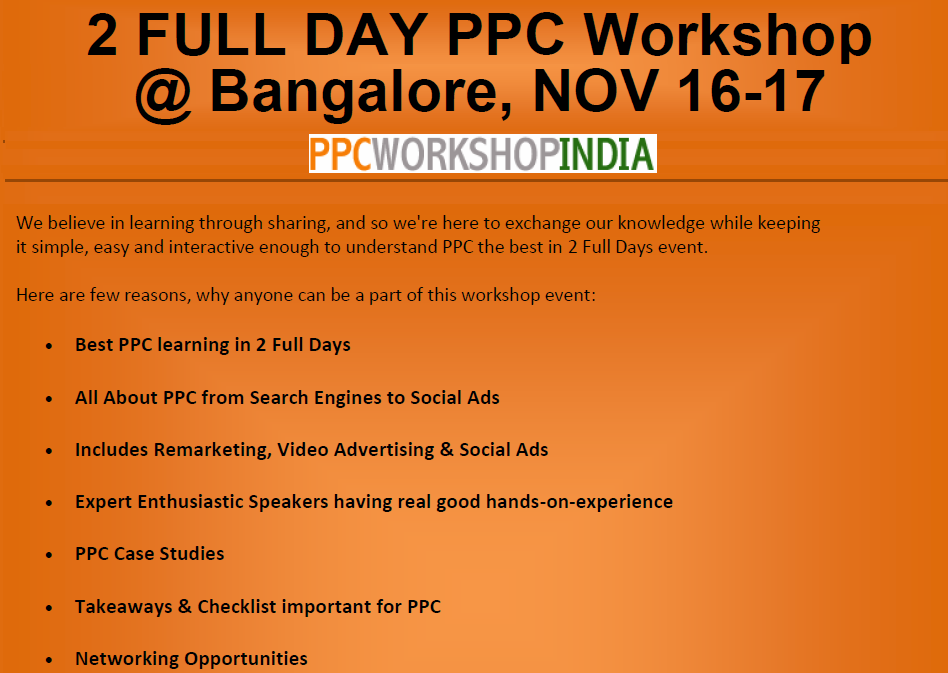 Whether you are a PPC fresher, Business Analyst, Corporate Professional, Start Ups, Entrepreneurs or just a student; Get ready for 2 – Days of thought-leading speakers, engaging program content, live demo's and plenty of coffee-fuelled techniques on Search Engine Advertising and Social Media PPC.
Those who strive to evaluate and fine-tune PPC strategy, improve click-through and conversion rates, and as well as review and expand your search term sets to maximize performance, or those who want to take up a career in Online Marketing, then mark your calendar to attend the 2 – Days event held on 16th & 17th Nov 2013 in Bangalore. You will hear 6 successful experts best in their fields. Each one will share their experience and case studies on topics like PPC basics, Use of Key Word Planner tool, Ad copy Creation, Ad word Video Advertising, Facebook Advertising, Linkedin Advertising etc..
So join PPCWorkshopIndia event, as we learn, "How Adwords AdCenter and Social Ads work in the Search Engine Marketing by exchanging ideas and sharing thoughts."
Hurry, confirm your presence by booking now for just 5,500/- INR (Limited Seats)
By bringing together the best of the best, we aim to make the sense of the wealth of PPC in the digital world.
Don't miss this flagship event that can bring some value to your business.
Event in Detail: http://ppcworkshopindia.in/
==============================================