Digital Marketing Kya Hai?
"Marketing is the management process responsible for identifying, anticipating and satisfying customer requirements profitably".
Marketing will always be about connecting with your audience in the right place at the right time. Today, that means you need to reach them where they are already spending time: On the Internet! 
Know more on, The Power of Internet & Online in India
And Digital marketing is defined by the use of numerous digital channels & tactics to connect with customers where they spend much of their time: Online. From the website itself to a business's online branding assets — digital marketing, email marketing, online brochures, and beyond — there's a spectrum of tactics that fall under the umbrella of "digital marketing."
At a high level, Digital Marketing refers to advertising or marketing delivered through digital channels such as Content Marketing, SEO, Paid Search, Social Media, Email, and Mobile Apps to connect with prospective customers.
Digital Marketing Agenda that would be covered in this blog article are as follows;
Basics of Digital Marketing Business for Beginners

Inbound Marketing Vs. Digital Marketing: Which is it?

How you use digital marketing based on your marketing objective!

Digital Marketing Tactics & Examples

How Digital Marketing works for All Businesses?

What Digital Marketer Do?

Importance & Benefits of Digital Marketing

What Types of Digital Marketing Content should I Create?

How much time to see Results from Digital Marketing Content?

Do I need a Big Budget for Digital Marketing Business?

How does Mobile Marketing Fit into Digital Marketing Business Strategy?

I'm Ready to Try Digital Marketing. What does Digital Marketing entail?

Why is an Integrated Approach to Marketing/Digital Marketing Important?

Create a Digital Marketing Campaign

Defining your digital marketing campaign;

Digital Marketing Career Benefits

What types of people excel in Digital Marketing field?

What type of Digital Marketing skills are in demand?

How do you get trained as a Digital Marketing professional?

Basic Guidelines for Digital Marketers

What is Digital Marketing strategy?

A recommended approach for developing a Digital Marketing Strategy

Digital Marketing Benchmark for Business Online

10 Reasons You Need a Digital Marketing Channel strategy?

Who needs Digital Marketing Services?

Let's understand Future Scope of Digital Marketing in India!
Basics of Digital Marketing Business
A complex question to answer;
Firstly, all marketing can be broadly categorized as "Direct Response", or "Saturation".
Saturation is when a company tries to eat up all the air time so they're all you see. Think about CocaCola in the 90s. Wake up in the morning, you find Coca-Cola on the radio. Make coffee you see coca-cola on the milk carton. Pick up the paper and find Coca-Cola front page ad. Turn on the TV and again Coca-Cola ad. Leave the house and you see Coca-Cola billboards. Go to the subway and there is Coca-Cola vending machines. By the time you get back home, you've seen a 100 something Coca-Cola advertisements. That's saturation marketing!
The more times you run ads for your brand, the more likely people are to have this brand at the top of their consciousness when they go to make a purchasing decision.
Saturation doesn't work as well in digital marketing because digital space is much bigger than real-world space. Everyone has a routine and there's a route you follow every day. There are 50 channels that you watch at the most, and you can't have another channel pop up out of the blue. Controlling air time is easy.
With digital marketing, saturation isn't as easy, even if you have tons of money lying around. Saturation only works if you can control various types of ad media on a very regular basis and over an extended period of time. For almost all businesses, direct response is a better method.
Direct response is when you use a very targeted system to get an immediate response, that either qualifies or disqualifies them as a potential buyer.
There are variations of what the basics of such a system are, but here's one:
So a good system for direct response marketing would include:
Different methods for attracting visitors, for qualifying visitors, for converting leads into sales & for following up on customers so that you can cross-sell and upsell to them at a later time.
So to sum up, the basics of digital marketing includes:
creating a digital system for getting customers, using internet-based tools to build customer relationships, making use of marketing automation to speed up the business process, and measuring everything important constantly to drive continuous improvement on business ROI
Website Digital Marketing
In many ways, your business website is the cornerstone of your digital marketing strategy. This is where many of your target customers first get an impression of your brand, and more often than not, this is where your leads will eventually convert into customers. So let's talk more about how your website plays a role in, how digital marketing works?
The goal of digital marketing is to attract, engage, and convert your leads. Many of the tactics that you will use to do this will ultimately lead your target customers back to your website to get more information or make a purchase.
Your website is sometimes your brand's only chance to make a good first impression with consumers in your target market. For this reason, you should pay attention to the layout of your site as well as the colors and graphics that you use in your site design. In fact, according to Adobe, 38% of people will stop engaging with a website, if they find the content or layout to be unattractive.
However, the appearance of your site is not the only thing that matters. Since your website is the center of many of your digital marketing campaigns, it's important that it is designed and optimized for conversions. This means creating a site that is easy to navigate and read with clear guidance for the next steps consumers need to take to move further down the funnel. This also means creating a site that optimized for mobile devices to improve the mobile user's site experience.
If you aren't sure that your website is effective, it may be time to work with web design experts who can help you improve and optimize your website design.
About Digital Marketing Again!
There are two types of digital marketing and one of these is PULL digital marketing. It aims to encourage consumers to come to you by visiting your business or making a call to action. Some of the common examples of pull digital marketing are websites and other internet-based mediums. Pull marketing is often called inbound marketing. Another type of digital marketing is to PUSH digital marketing. It pushes the marketing information directly to your customers. Common examples include SMS, email and RSS that target the customer with a customized message. Push marketing can also be called outbound marketing.
Inbound Marketing Vs. Digital Marketing: Which is it?
On the surface, the two seem similar: Both occur primarily online, and both focus on creating digital content for people to consume. So what's the difference?
The term "digital marketing" doesn't differentiate between push and pull marketing tactics (or what we might now refer to as 'inbound' and 'outbound' methods). Both can still fall under the umbrella of digital marketing.
Digital outbound tactics aim to put a marketing message directly in front of as many people as possible in the online space — regardless of whether it's relevant or welcomed.
On the other hand, marketers who employ digital inbound tactics use online content to attract their target customers onto their websites by providing assets that are helpful to them. One of the simplest yet most powerful inbound digital marketing assets is a blog, which allows your website to capitalize on the terms which your ideal customers are searching for.
Ultimately, inbound marketing is a methodology that uses digital marketing assets to attract, engage, and delight customers online. Digital marketing, on the other hand, is simply an umbrella term to describe online marketing tactics of any kind, regardless of whether they're considered inbound or outbound.
How you use digital marketing depends on your marketing objective!
It could be that you want to generate more leads, build your brand, increase sales or improve brand engagement. If you are interested in digital marketing, you need to know that it is more than just having a website. While your site needs to be aesthetically pleasing and easy to navigate, it also needs to have quality content that reflects your business. High-quality content can encourage customers to come back for more and improve your ranking in the SERPs.
The Basics of Digital Marketing is understanding the dynamics of a client and their industrial customers. When you got to understand the value of an industry and their very own customers, then you can play like a king in generating traffics and leads.
Be in good understanding with the client to understand the dynamics of customers. The data of the customer is like diamonds in treasure! With the help of different platforms, you must understand the customers quality at each of them.
Now, let's focus on the most common Digital Marketing Types;
Content Marketing
Have you heard the expression, "Content is King?" If not, you have now! Great content is the fuel that drives your digital marketing activities:
It is a key pillar of modern SEO
It helps you get noticed on Social Media
It gives you something of value to offer customers in Emails and Paid Search ads
This term denotes the creation and promotion of content assets for the purpose of generating brand awareness, traffic growth, lead generation, and customers. The channels that can play a part in your content marketing strategy include:
Blog posts
Ebooks and whitepapers
Infographics
Online brochures and lookbooks
Creating clever content that is not promotional in nature, but instead educates and inspires, is tough but well worth the effort. Offering content that is relevant to your audience helps them see you as a valuable source of information. On top of that, resourceful content makes it less likely that they will tune you out.
Search Engine Optimization
Simply put, search engine optimization (SEO) is the process of optimizing the content, technical set-up, and reach of your website so that your pages appear at the top of a search engine result for a specific set of keyword terms. Ultimately, the goal is to attract visitors to your website when they search for products, services, or information related to your business.
This is the process of optimizing your website to "rank" higher in search engine results pages, thereby increasing the amount of organic (or free) traffic your website receives. The channels that benefit from SEO include:
Websites
Blogs
Infographics
SEO can almost be viewed as a set of best practices for good digital marketing. It enforces the need for a well-constructed and easy-to-use website, valuable and engaging content, and the credibility for other websites and individuals to recommend you by linking to your site or mentioning it in social media posts. Click the link for more info on learning Google SEO.
PPC Google Ads
Paid search, or PPC advertising, typically refers to the "sponsored result" on the top or bottom of a Google search engine results page (SERP). You only pay when your ad is clicked. You can tailor your PPC ads to appear when specific search terms are entered, creating ads that are targeted to a particular audience.
PPC Google Ads is a method of driving traffic to your website by paying the publisher (either Google, Bing, or Others) every time your ad is clicked. One of the most common types of PPC is Google Ads, which allows you to pay for top slots on Google's search engine results pages at a price "per click" of the links you place. Other channels where you can use PPC include:
Paid ads on Facebook, Twitter, LinkedIn & Instagram
Paid ads on Amazon, Quora & few other 3 party Tools
Click this link to have more info on Google Ads PPC Certification Course
PPC ads are flexible, visible, and most importantly, effective for many different types of businesses. They are also contextual/display advertisements—ads that appear when a person is searching for a particular keyword or term.
You may be wondering, why should I pay for ads when I'm already working to improve my site's SEO? Though search engine optimization is important, it takes a long time to start working its magic. That's where PPC ads come in handy. PPC ads can help you see results more quickly by putting your site at the top of the search engine results page for relevant search terms. By appearing on the first page of the SERP, your business gains new visibility and searchers are more likely to find and click on your site.
PPC ads not only generate more traffic to your site, but they can help you ensure that the leads you are getting are qualified. Those who are clicking on your PPC ads are consumers who are searching for the topics that are most relevant to your products or services. This means that they are more likely to be interested in your brand and the products or services that you provide.

Social Media Marketing
People aren't just watching entertainment videos and posting selfies on social media these days. Many rely on social networks to discover, research, and educate themselves about a brand before engaging with that organization. For marketers, it's not enough to just post on Facebook and Twitter accounts. You must also weave social elements into every aspect of your marketing and create more peer-to-peer sharing opportunities. The more your audience wants to engage with your content, the more likely it is that they will want to share it. This ultimately leads to them becoming a customer. And as an added bonus, they will hopefully influence their friends to become customers, too.
This practice promotes your brand and your content on social media channels to increase brand awareness, drive traffic, and generate leads for your business. The channels you can use in social media marketing include:
Facebook
Twitter
LinkedIn
Instagram
Snapchat
Pinterest
Google+ (Expires on 31st March 2019)

Email Marketing
Email has been around for more than 2 decades, and it's not going anywhere anytime soon. It's still the quickest and most direct way to reach customers with critical information. Reason is simple: Consumers are very attached to their emails. Just ask yourself, how many times you have checked your email in the past 1 hour… this is what we mean?
Companies use email marketing as a way of communicating with their audiences. Email is often used to promote content, discounts, and events, as well as to direct people toward the business's website. The types of emails you might send in an email marketing campaign include:
Blog subscription newsletters.
Follow-up emails to website visitors who downloaded something.
Customer welcome emails.
Holiday promotions to loyalty program members.
Tips or similar series emails for customer nurturing.
But great marketers know that not just any email will do. Successful email campaigns must be engaging, relevant, informative, and entertaining. To succeed, your marketing emails should satisfy these 5 core attributes:
Trustworthy
Relevant
Conversational
Be coordinated across Channels
Strategic
It's important to note that email marketing is mainly used not for generating new leads, but rather nurturing leads once they have shown interest. Marketing emails can also be used as part of your customer retention campaigns. In fact, according to eMarketer, 80% of retail professionals report that email marketing is one of the best tactics for driving customer retention.
Like the other tactics mentioned above, email marketing is not used solely by itself. Sure, you might create a monthly newsletter to engage your leads or promote certain sales or discounts through email. However, you can also use email marketing to support some of your other campaign tactics like content marketing and social media.
Let's say that you want to hold a social media contest as a way to generate new leads and foster some excitement for a new product that your business is launching soon. Email marketing can be used to support this social media campaign. By letting your subscribers know that the contest is happening, you can work to get more people entered into the contest. In addition, each email that you send to leads and customers can include links to your social media pages as a way to drive more traffic to the platform and your contest.

Mobile Marketing
As mobile devices become an increasingly integral part of our lives, it's vital that marketers understand, how to effectively communicate on this unique and extremely personal channel? Mobile devices are kept in our pockets, sit next to our beds, and are checked constantly throughout the day. This makes marketing on mobile incredibly important but also very nuanced.
From SMS and MMS to in-app marketing, there are many ways to market on mobile devices, so finding the right method for your particular business is key. Beyond the mechanisms to deliver your message, you also need to think about coordination of your marketing across digital channels and make sure mobile is a part of that mix.

Affiliate Marketing
This is a type of performance-based advertising where you receive a commission for promoting someone else's products or services on your website. Affiliate marketing channels include:

Native Advertising
Native advertising refers to advertisements that are primarily content-led and featured on a platform alongside other, non-paid content. BuzzFeed-sponsored posts are a good example, but many people also consider social media advertising to be "native".
Types of Native Advertisement platforms;
Taboola
Outbrain
RevContent
MGID
Online PR
Online PR is the practice of securing earned online coverage with digital publications, blogs, and other content-based websites. It's much like traditional PR but in the online space. The channels you can use to maximize your PR efforts include:
Reporter outreach via social media.
Engaging online reviews of your company.
Engaging comments on your personal website or blog.

Marketing Automation
Marketing automation refers to the software that serves to automate your basic marketing operations. Many marketing departments can automate repetitive tasks they would otherwise do manually, such as:
Email newsletters.
Social media post scheduling.
Contact list updating.
Lead-nurturing workflows.
Campaign tracking and reporting.
Marketing automation is an integrated platform that ties all of your digital marketing together. Without it, your campaigns will look like an unfinished puzzle with a crucial missing piece. Marketing automation software streamlines and automates marketing tasks and workflows. Most importantly, it measures the results and ROI of your digital campaigns, helping you to grow revenue faster.
When used effectively, marketing automation will help you gain much-needed insight into which channels are working and which aren't. It will give you the metrics needed to speak confidently about digital marketing's impact on the bottom line.
Influencer Marketing

Video Marketing
Digital Marketing Tactics and Examples
The best digital marketers have a clear picture of, how each digital marketing campaign supports their overarching goals. And depending on the goals of their marketing strategy, marketers can support a larger campaign through the free and paid channels at their disposal.
A content marketer, for example, can create a series of blog posts that serve to generate leads from a new ebook the business recently created. The company's social media marketer might then help promote these blog posts through paid and organic posts on the business's social media accounts. Perhaps the email marketer creates an email campaign to send those who download the ebook for more information on the company.
How Online Marketing works?
Digital marketing can work for any business in any industry. Regardless of what your company sells, digital marketing still involves building out buyer personas to identify your audience's needs and creating valuable online content. However, that's not to say all businesses should implement a digital marketing strategy in the same way.
If your company is business-to-business (B2B), your digital marketing efforts are likely to be centered around the online lead generation, with the end goal being for someone to speak to a salesperson. For that reason, the role of your marketing strategy is to attract and convert the highest quality leads for your salespeople via your website and supporting digital channels.
Beyond your website, you'll probably choose to focus your efforts on business-focused channels like LinkedIn where your demographic is spending their time online.
If your company is business-to-consumer (B2C), depending on the price point of your products, it's likely that the goal of your digital marketing efforts is to attract people to your website and have them become customers without ever needing to speak to a salesperson.
For that reason, you're probably less likely to focus on 'leads' in their traditional sense, and more likely to focus on building an accelerated buyer's journey, from the moment someone lands on your website, to the moment that they make a purchase. This will often mean your product features in your content higher up in the marketing funnel than it might for a B2B business, and you might need to use stronger calls-to-action (CTAs).
For B2C companies, channels like Instagram and Pinterest can often be more valuable than business-focused platforms LinkedIn.
What does Digital Marketer Do?
Digital marketers are in charge of driving brand awareness and lead generation through all the digital channels both free and paid that are at a company's disposal. These channels include social media, the company's own website, search engine rankings, email, display advertising, and the company's blog.
The digital marketer usually focuses on a different key performance indicator (KPI) for each channel so they can properly measure the company's performance across each one. A digital marketer who's in charge of SEO, for example, measures their website's "organic traffic" — of that traffic coming from website visitors who found a page of the business's website via a Google search.
Digital marketing is carried out across many marketing roles today. In small companies, one generalist might own many of the digital marketing tactics described above at the same time. In larger companies, these tactics have multiple specialists that each focus on just one or two of the brand's digital channels.
Here are some examples of these Digital Marketing specialists:
Main KPIs: Organic traffic
In short, SEO managers get the business to rank on Google. Using a variety of approaches to SEO, this person might work directly with content creators to ensure the content they produce performs well on Google — even if the company also posts this content on social media.
Content Marketing Specialist
Main KPIs: Time on page, overall blog traffic, YouTube channel subscribers
Content marketing specialists are the digital content creators. They frequently keep track of the company's blogging calendar and come up with a content strategy that includes video as well. These professionals often work with people in other departments to ensure the products and campaigns the business launches are supported with promotional content on each digital channel.
Main KPIs: Likes, Follows, Impressions, Shares, Comments
The role of a social media manager is easy to infer from the title, but which social networks they manage for the company depends on the industry. Above all, social media managers establish a posting schedule for the company's written and visual content. This employee might also work with the content marketing specialist to develop a strategy for which content to post on which social network.
(Note: Per the KPIs above, "impressions" refers to the number of times a business's posts appear on the news feed of a user.)
The Power of Digital Marketing
Digital media is so pervasive that consumers have access to information any time and any place they want it. Gone are the days when the messages people got about your products or services came from you and consisted of only what you wanted them to know. Digital media is an ever-growing source of entertainment, news, shopping and social interaction, and consumers are now exposed not just to what your company says about your brand, but what the media, friends, relatives, peers, etc., are saying as well. And they are more likely to believe them than you. People want brands they can trust, companies that know them, communications that are personalized and relevant, and offers tailored to their needs and preferences.
If you're new to digital marketing, it may feel overwhelming.
But in many ways, digital marketing is no different than traditional marketing. In both, smart organizations seek to develop mutually beneficial relationships with prospects, leads, and customers.
Now, think about the last important purchase you made. Perhaps you purchased a home, hired someone to fix your roof, or changed paper suppliers at your office. Regardless of what it was, you probably began by searching the Internet to learn more and find your best options. Your ultimate buying decision was then based on the reviews you read, the friends and family you consulted with, and the solutions, features, and pricing you researched.
Today, most purchasing decisions begin online. That being the case, an online presence is absolutely necessary—regardless of what you sell.
And having a strong digital presence will help you in multiple ways:
It will make it easier to create awareness and engagement both before and after the sale.
You can convert new buyers into rabid fans who buy more (and more often)
You'll enjoy all the benefits of word-of-mouth and social sharing.
Be aware, though, the digital marketing scene is ever changing. Gurus, podcasts, and bloggers declare a tool or tactic hot one week and dead the next.
The truth is, today, digital marketing is less about "digital" and more about "marketing," largely because digital marketing has come of age. Its fundamentals have already been established.
It's important for business owners to understand how digital marketing works so that they can strategically use the right digital tools and campaign tactics to reach and engage their audience.
Unlike most offline marketing efforts, digital marketing allows marketers to see accurate results in real time. If you've ever put an advert in a newspaper, you'll know how difficult it is to estimate how many people actually flipped to that page and paid attention to your ad. There's no surefire way to know if that ad was responsible for any sales at all.
Digital Marketing Measurement
Track the ROI of every aspect of your online or cross channel marketing efforts.  Here are some examples:
With digital marketing, you can see the exact number of people who have viewed your website's homepage in real time by using Google Analytics. You can also see how many pages they visited, what device they were using, and where they came from, amongst other digital analytics data.
This intelligence helps you to prioritize which marketing channels to spend more or less time on, based on the number of people those channels are driving to your website. For example, if only 10% of your traffic is coming from organic search, you know that you probably need to spend some time on SEO to increase that percentage.
With offline marketing, it's very difficult to tell how people are interacting with your brand before they have an interaction with a salesperson or make a purchase. With digital marketing, you can identify trends and patterns in people's behavior before they've reached the final stage in their buyer's journey, meaning you can make more informed decisions about, how to attract them to your website right at the top of the marketing funnel.
Content Performance and Lead Generation
Imagine you've created a product brochure and posted it through people's letterboxes — that brochure is a form of content, albeit offline. The problem is that you have no idea how many people opened your brochure or how many people threw it straight into the trash.
Now imagine you had that brochure on your website instead. You can measure exactly how many people viewed the page where it's hosted, and you can collect the contact details of those who download it by using forms. Not only can you measure how many people are engaging with your content, but you're also generating qualified leads when people download it.
An effective digital marketing strategy combined with the right tools and technologies allows you to trace all of your sales back to a customer's first digital touchpoint with your business.
We call this attribution modeling, and it allows you to identify trends in the way people research and buy your product, helping you to make more informed decisions about what parts of your marketing strategy deserve more attention, and what parts of your sales cycle need refining.
According to Aberdeen Group, connecting the dots between marketing and sales is hugely important —  companies with strong sales and marketing alignment achieve a 20% annual growth rate, compared to a 4% decline in revenue for companies with poor alignment. If you can improve your customer's' journey through the buying cycle by using digital technologies, then it's likely to reflect positively on your business's bottom line.
What Types of Digital Marketing Content should I create?
The kind of content you create depends on your audience's needs at different stages in the buyer's journey. You should start by creating buyer personas (use these free templates, or try makemypersona.com) to identify what your audience's goals and challenges are in relation to your business. On a basic level, your online content should aim to help them meet these goals, and overcome their challenges.
Then, you'll need to think about when they're most likely to be ready to consume this content in relation to what stage they're at in their buyer's journey. We call this content mapping.
With content mapping, the goal is to target content according to:
The characteristics of the person who will be consuming it (that's where buyer personas come in).
How close that person is to make a purchase (i.e., their lifecycle stage).
In terms of the format of your content, there are a lot of different things to try. Here are some options we'd recommend using at each stage of the buyer's journey:
Awareness Stage –
Blog posts. Great for increasing your organic traffic when paired with a strong SEO and keyword strategy.
Infographics. Very shareable, meaning they increase your chances of being found via social media when others share your content.
Short videos. Again, these are very shareable and can help your brand get found by new audiences by hosting them on platforms like YouTube.
Consideration Stage –
eBooks. Great for lead generation as they're generally more comprehensive than a blog post or infographic, meaning someone is more likely to exchange their contact information to receive it.
Research reports. Again, this is a high-value content piece which is great for lead generation.
Webinars. As they're a more detailed, interactive form of video content, webinars are an effective consideration stage content format as they offer more comprehensive content than a blog post or short video.
Decision Stage –
Case studies. Having detailed case studies on your website can be an effective form of content for those who are ready to make a purchasing decision, as it helps you positively influence their decision.
Testimonials. If case studies aren't a good fit for your business, having short testimonials around your website is a good alternative. For B2C brands, think of testimonials a little more loosely.
Timeline to see Results from Digital Marketing Content?
With digital marketing, it can often feel like you're able to see results much faster than you might with offline marketing due to the fact it's easier to measure ROI. However, it ultimately depends on the scale and effectiveness of your digital marketing strategy.
If you spend time building comprehensive buyer personas to identify the needs of your audience, and you focus on creating quality online content to attract and convert them, then you're likely to see strong results within the first 6 months.
If paid advertising is part of your digital strategy, then the results come even quicker — but it's recommended to focus on building your organic (or 'free') reach using content, SEO, and social media for long-term, sustainable success.
Do I need huge budget for Digital Marketing Business?
As with anything, it really depends on what elements of digital marketing you're looking to add to your strategy.
If you're focusing on inbound techniques like SEO, social media, and content creation for a preexisting website, the good news is you don't need very much budget at all. With inbound marketing, the main focus is on creating high-quality content that your audience will want to consume, which unless you're planning to outsource the work, the only investment you'll need is your time.
With outbound techniques like paid advertising and buying email lists, there is undoubtedly some expense. What it costs comes down to what kind of visibility you want to receive as a result of the advertising.
For example, to implement PPC using Google AdWords, you'll bid on keywords against other companies in your industry to appear at the top of Google's search results for keywords associated with your business. Depending on the competitiveness of the keyword, this can be reasonably affordable, or extremely expensive, which is why it's a good idea to focus on building your organic reach, too.
How does Mobile Marketing fit into Digital Marketing Business Strategy?
Another key component of digital marketing is mobile marketing. In fact, smartphone usage as a whole account for 69% of time spent consuming digital media in the U.S., while desktop-based digital media consumption makes up less than half — and the U.S. still isn't mobile's biggest fan compared to other countries.
This means it's essential to optimize your digital ads, web pages, social media images, and other digital assets for mobile devices. If your company has a mobile app that enables users to engage with your brand or shop your products, your app falls under the digital marketing umbrella, too.
Those engaging with your company online via mobile devices need to have the same positive experience as they would on the desktop. This means implementing a mobile-friendly or responsive website design to make browsing user-friendly for those on mobile devices. It might also mean reducing the length of your lead generation forms to create a hassle-free experience for people downloading your content on-the-go. As for your social media images, it's important to always have a mobile user in mind when creating them as image dimensions are smaller on mobile devices, meaning text can be cut-off.
There are lots of ways you can optimize your digital marketing assets for mobile users, and when implementing any digital marketing strategy, it's hugely important to consider how the experience will translate on mobile devices. By ensuring this is always front-of-mind, you'll be creating digital experiences that work for your audience, and consequently, achieve the results you're hoping for.
I'm Ready to Try Digital Marketing. What does Digital Marketing entail?
If you're already doing digital marketing, it's likely that you're at least reaching some segments of your audience online. No doubt you can think of some areas of your strategy that could use a little improvement, though.
Digital marketers monitor things like what is being viewed, how often and for how long, sales conversions, what content works and doesn't work, etc. While the Internet is, perhaps, the channel most closely associated with digital marketing, others include wireless text messaging, mobile instant messaging, mobile apps, podcasts, electronic billboards, digital television and radio channels, etc.
Digital Buyer's Journey
The days of browsing at a physical store location and asking sales associates for more information about products are gone. Now, consumers use the internet to get the information they need to make an informed purchasing decision, even if they still visit the physical store location to make their final purchase.
That's where digital marketing comes in. It helps your business reach these consumers wherever they are in their digital buyer's journey.
Why is an Integrated Approach to Marketing/Digital Marketing Important?
Understanding, how digital marketing works goes beyond just getting to know each digital marketing tactic on its own. Now that you know what each element is and understand the roles that each tactic plays in your campaigns, it's time to discuss how these digital marketing tactics can work together to support your overall campaign goals.
Integrated multi-channel marketing is an approach to marketing that combines all of the tactics in your digital marketing toolbox to create a seamless experience for your target audience. By coordinating your marketing messages across digital platforms and using a variety of tactics to support each centralized campaign, you can create a more unified brand message and improve the success of every campaign – thus mastering how digital marketing works.
To get started creating an integrated digital marketing strategy, you'll want to consider, how each of your digital channels can work together toward a common goal. For instance, if your marketing goal is to increase traffic to your website, you might consider just a few of the ways that different digital marketing tactics can support your website marketing:
The content marketing that you create on your site including your website pages and blog posts help improve search engine optimization, thus helping you drive more organic traffic back to your website.
When you share links to pieces of content on your social media channels, you can work to drive further traffic back to your site. Strategic social messages can even help influence direct conversions once the user arrives at your site.
As you develop email marketing content, you can find new ways to lead readers back to the relevant areas of your site. Include calls-to-action throughout the body text and links to specific landing pages that will help guide the reader on to the next step in the buyer's journey.
This is just one example of how each one of the digital marketing tactics works together to help you achieve one of your digital marketing goals. As you work to build an integrated marketing strategy, it's important that you ensure that your messaging is consistent across platforms. Whether you're creating new site pages or firing up a few Twitter posts, you should use the same brand voice and tone to help create a more seamless experience for your target audience.
Now that you know, how digital marketing works and why an integrated marketing strategy is essential for your business; it's time to start planning your next digital marketing campaign. You've got many different tactics at your disposal to help you create effective integrated marketing campaigns that drive real results.
Create a Digital Marketing Campaign
Follow the below simple steps to define your digital campaign;
A great digital marketing campaign can help a company build a strong online reputation, increase brand awareness and encourage traffic and sales conversions. Most companies do not develop a digital marketing strategy before initiating a digital campaign. This is a bad idea. Without guidelines to follow, how can results be measured and, if successful, duplicated?
Defining your Digital Marketing Campaign;
Define Your Goals!
Before starting any type of digital campaign, you need to decide exactly what is to be achieved; whether it is to increase sales, brand awareness, increase customer acquisition or customer retention. Additionally, you must decide what exactly you are measuring your achievements against, as well as matching up your KPIs (key performance indicators) to these goals. Ask yourself the questions:
What are you trying to achieve?
Who is the target audience?
What is the budget?
What is the estimated length of time for the campaign?
What are the results desired that will make this campaign successful?
If you have any previous digital campaigns, what were previous targets and were they met?
Is there anything that could be improved upon by a previous campaign?
By doing so, it enables you to plan, how you will get from A to B and the online tools used to reach those objectives.
An analysis of your market size and demographics, along with potential and established competition, could also help you define the tools to use. By understanding what your consumers' need and what they are searching for online, you can plan ways to advertise your products and services.
To do this there are various platforms you can use including Google Analytics, FollowerWonk and the most direct way is contacting a handful of clients with a number of market research questions.
Choosing Your Digital Marketing Channel  & Tools
There are a number of digital marketing channels to use to help your company's visibility online. Grasping an understanding of each digital marketing network will help you to understand which platform is best.
Measuring Your Digital Marketing Campaign
Depending on the platform used, there are a number of ways to measure the success of a digital marketing campaign;
Google Analytics – As Google is the big player in the search engine world, Google Analytics is the most prolific way to measure success. Once a GA account is established, tracking, measuring and reporting on traffic to your website is simple. Additionally, GA can display the origin of said traffic, so you can see if it is truly your digital marketing campaign driving visitors to your site.
AWR Cloud – This platform allows users to receive accurate rankings of your company's targeted keywords. Once set up, you'll be able to see whether your digital marketing campaign is effective in increasing the visibility of your website.
Digital Marketing Career Benefits
Digital marketing is a career that has plenty of room for techs, creatives, and business people. There are so many avenues that you can follow; it's best to focus on one or two things that you do best, then you can always learn more from there. If you have a business or communications background, you may want to consider going into management.
This is a field that's ever-changing and engaging; there's always something new to learn. And if you work in a digital agency, you'll always be working with different clients, which means you'll probably never get bored.
Beyond this, here are a few more reasons to consider digital marketing career;
There's a Digital Skills Gap: There's a growing demand for people with digital skills, particularly for those in the middle-income bracket, specifically soft skills. So, sticking with ongoing training in this area, even if you're not a complete tech geek, is a good thing to bank on into the foreseeable future
Versatility: If you choose a career path or specialization in this field and you decide to pivot later, you'll likely only need a little training in order to make the switch. In this sense, you can build on existing skills while still learning new ones but still stay in the same field. There's plenty of choices, here in digital marketing, and ongoing learning opportunities, where different skills fit together in different ways.
The Industry is always Evolving: As the industry grows and changes, there's always something new and interesting to learn, and you can follow along and learn, whether you're taking the lead on these initiatives or not. Since there will be a variety of specialists working in a given agency, you'll likely be working alongside professionals from a variety of backgrounds, with everyone having to come together to build marketing strategies.
Earnings: When a job is in demand, that means there's more opportunity to negotiate remuneration whether you are working in digital marketing in-house or as a freelancer. So long as you "show" your work through the job search process, you'll be able to bid higher and higher the more experience you get.
Be Creative: Not only is there plenty of opportunities for creatives to do their thing in writing, design and even video and audio production, there's also plenty of room for day-to-day creativity in a general sense. You'll always be having to think of new ways to market products, solve problems, and engage audiences.
Train at your Own Pace: You can start working on building this specific career now, from the comfort of your own home, and do it your way. Take online courses, build a blog or a website, work on your own social media, get some volunteer or freelance work, and you're on your way to building a solid portfolio from the comfort of your own home. For most specialties, there's no need to spend 1000s of hours and dollars sitting around in a classroom—you can really build your skills and get training in a way that suits your lifestyle.
Work with different People Every Day: You're always going to find something new to do in this field – and have someone new to talk to. Whether it's a new client, a colleague with an interesting specialty, or finding fun ways to engage and expand your audience, anyone with an interest in working with people will do well in the social and business end of this digital marketing career. And if you're a little more on the introverted side, you can stay behind the scenes doing writing or web work.
You can find more information on Digital Marketing career at eMarket Education blog
What types of people excel in this Digital Marketing field?
All sorts of people can follow a career that touches on marketing; it depends on what your interests are. Having an extremely technical background isn't usually necessary, though if you do know a thing or two about web design or coding, you're probably going to be ahead of the competition in digital marketing.
Because this is such a dynamic field that requires ongoing learning, you pretty much need to be a self-starter—that is, willing to teach yourself new skills and technology on an ongoing basis. To this end, you'll need to be a creative problem-solver. If you are curious, innovative, proactive, a natural leader, adaptable, creative, analytical and have a good business sense; you'll probably do well in most areas in this digital marketing field.
Types of Digital Marketing skills in demand;
The digital economy is embedded in every corner of our lives, and it's definitely not going anywhere. There's a solid budget going into digital marketing now as opposed to the traditional marketing. 93% of online activity starts with a search engine and ensures the continued effectiveness of SEO as a superior marketing strategy while about 80% of Americans make an online purchase at least once a month. Anyone thinking about starting or leading a business needs to have a basic understanding of digital marketing in order to convert customers.
There is plenty of room for people looking to enter the world of digital marketing and related careers. According to Smart Insights, some of the most in-demand skills for 2017 were digital advertising, content creation, content strategy, and social media, which is great news for those who veer towards the creative, social and business end of the spectrum.
For those who are more technically minded, there's still plenty of demand and quite a high earning potential for those who specialize in technology like SEO and SEM since this is what can be at the base of what drives profits in any business. Content marketing relies on traffic and anyone with the technical expertise to analyze these patterns is going to be a valuable asset, especially as these types of jobs become more complex with the advent of AI.
How do you get trained as a Digital Marketing professional? Join eMarket Education
If you already have a background in marketing management, copywriting, web development or even design, you've already got plenty of transferable skills to get into digital marketing course. You'll probably want to get started on your own personal branding and build a portfolio in order to build your own unique digital presence.
It's tough to stay on top of all of the latest trends, but getting a solid understanding of the basics of up and coming trends like AI and virtual reality in the context of how they're being used for marketing is an excellent place to put your focus as well.
You should certainly make sure that your social media streams are consistent with your skills and aptitude–in other words, talk about what you are interested in and learning about publicly and as often as you can. Start a blog over at Blogger or WordPress or Medium and join some Facebook or LinkedIn or Google groups in your field of interest.
You'll want to also look for a comprehensive, reputable digital marketing training institute to get official certification in one or more core areas. Once you're officially certified, you'll then have a leg-up amongst your peers when it comes to searching for fulfilling opportunities.
Basic Guidelines for Digital Marketers
Some recommended reading is listed at the bottom of this blog;
Web;
A firm understanding of how to access and use the internet is a great start but this is a big tool so naturally, it has many parts.
Web browsers: Get to grips with as many as you can because they all work slightly different to one another and when dealing with website design and management knowing the difference in browsers will help when trying to manage a suitable content management system. IE, Firefox, Safari and Google Chrome are the most common but there are others.
Website design: This is essential and is as simple or complex as you can handle. You must be able to look at the look/feel, structure, site-mapping and functionality of a website. As marketers, the aim is to improve these to meet customer needs. The more advanced aspects are building a website (html, which is done in programs such as Dreamweaver), Flash and Java programming (for web utilities).
Search engine optimization (SEO): If you or your organization has a website then this is a practice that you should already be doing to help improve traffic. The basics that will help improve your site's traffic are: all copy is up-to-date, spellchecked and relevant, all links are labeled, all links work, all pictures are labeled and have a description.
Pay Per Click (PPC) Google Adwords: Pay per click is a process that takes place online once you have run a search on a search engine such as Google, dependent on the ranking of the website and the adwords that have been used (some a lot more premium than others) when you click on your ideal search result the organisation will be billed for each click through. You can set up an account for free on Google to use, but before you start it is worth researching which terms/AdWords work best for your organization and your competitors, this can be done for free with a search engine and time.
Analytics: An essential part of all monitoring not only web-traffic but also any online marketing activity is done using web analytics tools. There are lots out there that essentially cover the same content; I would stick with Google as it is free and widely used. You can learn how to use this tool effectively at Google's Conversion University and what's more once you're more adverse with it you can take the Google IQ test and they will certify your understanding of this tool (this has a small cost, however) but looks good on a CV.
eMarketing;
The cement of digital marketing and used throughout marketing campaigns. This is an essential tool to understand — the more advanced the better. There are many different aspects of emarketing to consider. Getting hold of a good book can help to improve your knowledge and understanding of this area.
Creating emails: This again is similar to website design in that it is as simple or complex as you can handle. It is essential to understand the different formats emails come in — this can be done through simple research into emails that you receive from organizations. Following from this you should be able to create an email template (either through email provider or on Dreamweaver). Format, copy, imagery and legal aspects (disclaimers and disclosures) are very important.
Analysis: Getting creative and making an amazing email is one half of the puzzle but getting to grips with the analysis tools is the other. Most emailing houses will provide reporting suites for you to check the status of your emails. Get to grips with the lingo: open rates, bounce rates, heat maps all important in analysis.
Database work: Knowing how to use data is an essential part of emarketing as segmenting the market and being more focussed helps cut costs and increase impact. A reasonable understanding of using data in Excel helps here.
Media buying (Programmatic Ads)
A large part of marketing involves buying space to advertise to a potential customer in. Due to the size of the web, there are many places to advertise so building up contacts and researching where your customers are likely to go is a must. Media buying can be made easy if you use a media buying agency but knowing how to do it yourself can help you throughout your career.
Digital space: Websites will have a variety of different packages available at different costs, getting to know the different formats will make this process a lot easy to decode, salesmanship can help your budget go a lot further in this area so don't be afraid to haggle. Flash, buttons, skyscrapers, bottom bars, emails, sponsorship are terms that you will need to know and be able to distinguish. Practice makes perfect in this area and building good relationships with advertising reps can mean better positioning and more for your money, also make sure that get up to speed with the lingo: page impressions etc.
Link building: A spin-off from networking that can help when obtaining and allocating media space, is to throw in the possibility of sharing links between yours and the site you are interested in advertising/working with, this will help boost search engine rankings.
Data: Purchasing data lists can be an essential part of emarketing, making sure you buy the right data and understand the legal permissions of its use before agreeing to anything. This is tied closely with emarketing so it's worth getting a good book on the subject.
What is Digital Marketing strategy?
Strategy essentially refers to the angle of attack:
Who your target market is,
What your offer and unique selling proposition is,
How you'll present this offer, described as a tone of voice your brand speaks in (e.g. trendy or traditional, bright or subdued, etc.), the kinds of words you use, etc.
What specific mix of tools (e.g. social media, email, SEO, PPC, etc.) you'll use to build the system shown above,
What you'll measure and how, and what these measurements will tell you,
And what to do about measurement when you don't like the results
A good strategy is tailored to your needs. As others have pointed out a coffee shop might be better off focusing on SMM rather than SEO (highly debatable, but a debate for another time), while a recruiting company might choose to prioritize LinkedIn over everything else.
A good strategy will also make use of multiple channels throughout and have fail-safes everywhere so that you don't become dependent on a single source of business you don't control.
A recommended approach for developing a Digital Marketing Strategy
Whether you have a strategy or not, 'Opportunity, Strategy, Action' approach to improving digital marketing, is benchmarking to compare where you are now to assess the potential against where you need to be in the future.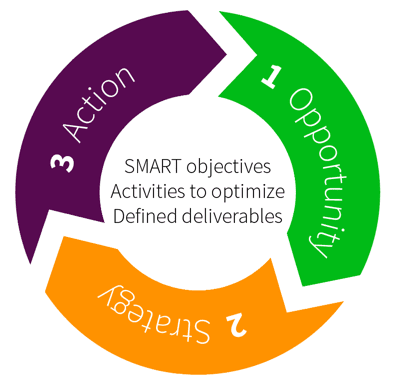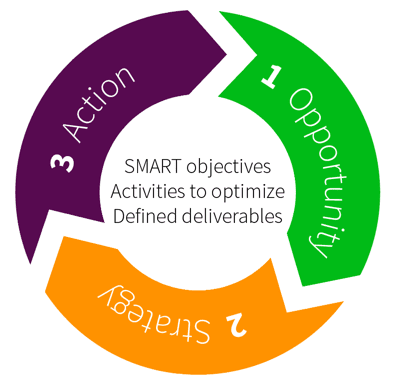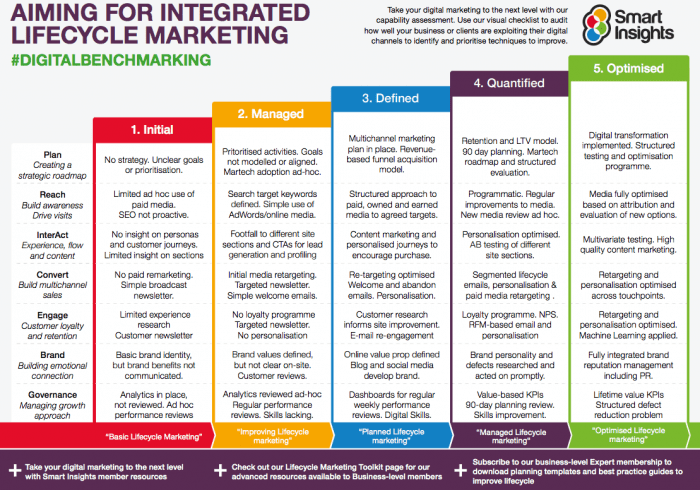 But what if you're one of the companies that don't have a digital strategy yet? Well, I think the two simple alternatives for creating a plan may suggest a way forward:
Start with a separate digital marketing plan defining transformation needed and making the case for investment and changes to your digital marketing
Then, following approval, create an integrated digital plan which is part of the overall marketing plan – digital is fully aligned and becomes part of business as usual.
So, what are the takeaways to act on here? It seems to me that:
Using digital marketing without a strategic approach is still commonplace. I'm sure many of the companies in this category are using digital media effectively and they could certainly be getting great results from their search, email or social media marketing. But I'm equally sure that many are missing opportunities for better targeting or optimization or are suffering from the other challenges.
Many, a majority of companies in this research to take a strategic approach to digital. From talking to companies, I find the creation of digital plans often occurs in two stages. First, a separate digital marketing plan is created. This is useful to get agreement and buy-in by showing the opportunities and problems and map out a path through setting goals and specific strategies for digital including how you integrated digital marketing into other business activities. Second, digital becomes integrated into marketing strategy, it's a core activity, "business-as-usual", but doesn't warrant separate planning, except for the tactics.
10 Reasons You need a Digital Marketing Channel strategy?
I find that companies without a digital strategy (and many that do) don't have a clear strategic goal for what they want to achieve online in terms of gaining new customers or building deeper relationships with existing ones.
You won't know your online audience or market share
Customer demand for online services may be underestimated if you haven"t researched this.  Perhaps, more importantly, you won't understand your online marketplace: the dynamics will be different to traditional channels with different types of customer profile and behavior, competitors, propositions, and options for marketing communications.
Existing and start-up competitors will gain market share
If you're not devoting enough resources to digital marketing or you're using an ad-hoc approach with no clearly defined strategies, then your competitors will eat your digital lunch!
You don't have a powerful online value proposition
A clearly defined online customer value proposition tailored to your different target customer personas will help you differentiate your online service encouraging existing and new customers to engage initially and stay loyal. Developing a competitive content marketing strategy is key to this for many organizations since the content is what engages your audiences through different channels like search, social, email marketing and on your blog.
You don't know your online customers well enough
It's often said that digital is the "most measurable medium ever". But Google Analytics and similar will only tell you volumes of visits, not the sentiment of visitors, what they think.
You're not integrated ("disintegrated")
It's all too common for digital marketing activities to be completed in silos whether that's a specialist digital marketer, sitting in IT or a separate digital agency. It's easier that way to package digital marketing into a convenient chunk. But of course, it's less effective. Everyone agrees that digital media work best when integrated with traditional media and response channels.
Digital doesn't have enough people/budget given its importance
The insufficient resource will be devoted to both planning and executing e-marketing and there is likely to be a lack of specific specialist digital marketing skills which will make it difficult to respond to competitive threats effectively.
You're wasting money and time through duplication
Even if you do have sufficient resource it may be wasted. This is particularly the case in larger companies where you see different parts of the marketing organization purchasing different tools or using different agencies for performing similar online marketing tasks.
You're not agile enough to catch up or stay ahead
If you look at the top online brands like Amazon, Dell, Google, Tesco, Zappos, they're all dynamic  – trialing new approaches to gain or keep their online audiences.
Every company with a website will have analytics, but many senior managers don't ensure that their teams make or have the time to review and act on them. One a strategy enables you to get the basics right, then you can progress to continuous improvement of the key aspects like search marketing, site user experience, email and social media marketing. So that's top 10 problems that can be avoided with a well thought-through strategy.
Who needs Digital Marketing Services?
Digital marketing is important to any business regardless of its size. It can help you achieve the substantial leap you've been looking forward to. Your digital marketing strategy could differentiate you from your competitors and help you stand out. Without the right digital marketing strategy, you will miss a lot of opportunities for growth. It doesn't matter what kind of business you are running right now. More and more people are using digital technology to find information, buy products and assess the services they use. A good portion of your target customers might be in this group. If your prospects are online and you are not, you are definitely missing so many opportunities. You might be left behind by your competitors and lose business in the process.
You can invest your skills and time in creating a digital marketing strategy to leverage the internet. It will help you better understand the latest marketing techniques and make more knowledgeable decisions in the future. There are also digital marketing firms that can create a strategy that suits your business needs and goals. Get started now and experience the benefits of digital marketing.
To sum-up, digital Marketing is making use of various types of digital technologies to promote yourself or your business.
I believe every business could benefit from using a well made direct response digital marketing system. You could make one yourself or get someone to help you develop one.
It makes sense for small companies to get digital marketing services from a consultant like an agency as doing so is cheaper in the long term than hiring full-time employees and managing them. It lets them focus more on their core competencies – making the products or delivering the service they sell.
It's perfectly possible to do all digital marketing in-house, but it is time-consuming, and you won't get as much return on your investment if you don't know what you're doing. Of course, if you don't know what you're doing it'll be really hard to hire the right people to do all this for you.
My recommendation is to start out in-house, test for a while (3 to 6 months) and then call in consultants or agencies to see if performance can be improved (the answer is yes – it can always be improved).
Hope that helps.
You can contact eMarket Agency for their digital marketing services.
Let's understand Future Scope of Digital Marketing in India!
Well, you have been spending most of your time online these days, how about making some good use of the time you spend? I believe each one of you should learn digital marketing to market your talent‍, your expertise and the skills you possess, if not, to become an expert in this domain and get into companies hiring Digital Marketers!
Let's delve a little deeper into this…
Digital Marketing is the Future and We Cannot Deny That Fact. Check this link to understand Digital Marketing Career scope in India
India has about 450 million Internet users (as per IAMAI) which are almost 30 to 40% of the total Indian population. This number will reach its level best in 2017 with the easy and cost-effective availability of networks in both urban and rural India. Thanks to #DigitalIndiacampaign and great penetration of affordable JIO network.
Do you remember the last time you focussed on those newspapers advertisements?️ Or the last time you looked at those TV advertisements without flipping the channels?
Well, there is a radical shift. People consume more content on mobile phones and laptops today!
India has about 240+ million Facebook users as of August 2017and this number is an indication that almost 50% of the Internet-using population in India wants to network.
About 95 crore people‍⚕‍‍‍‍ use mobile phones today in India and is expected to reach 103.5 crores in June 2017. Gone are those days, when people used their landline phones☎️. Smartphones are omnipresent in today's world!
There is a popular saying that goes, "Be there, where your Customers are!"‍♂
You must know that your customers are on the internet all the time, networking on social media 24×7 and leading a digital life. ‍‍
The question is, "Is your business a part of their digital life? ‍" Have you made yourself digital savvy?
We cannot compare traditional advertising reach to digital advertising️ at this point in time. But Digital Marketing is clean, clear and there is a lot you can achieve with a minimum budget.
Digital Marketing is making use of various types of digital technologies to promote yourself or your business. There are many types of digital marketing. It is very important for you as a brand to understand what will and will not work in regards to your digital marketing efforts. These days you can waste a lot of time and money focusing your resources on failing marketing campaigns.
For example:
If you are a coffee shop, it would not be wise to spend money and time on an SEO (search engine optimization) campaign. It could be costly and most likely you would never see the return on your investment. You would be much better off doing a SMM (social media marketing) campaign. Or even focus on your Local Listing on Google, Bing, and Yahoo. This would be an excellent, free way to engage your potential customers, by offering coupons and having previous customers right reviews.
Now if you are a law firm or any other type of business that has higher ticket prices, SEO would work great for you. SEO can be expensive, but when executed properly can pay for itself 10 times if not one hundred times over.
If your business is into digital marketing, you must ensure that your business is capable enough to generate traffic through online.
What are the things you must know about digital marketing?

In digital marketing, as said before technologies involved are wider. The different methods experts are;
With this much wide platforms (more available) into study for generate leads, you business will not suite everything listed.
Digital marketing strategy depends on?

Business Branding
Targeted Audience
Potential Leads
Understand Your Business is of B2B or B2C model
Paid Marketing or Organic Traffic
Investment and ROI of it
Customers Requirement
Websites list referred for this blog article Content Creation & Image sharing ;
www.blog.hubspot.com

www.smartinsights.com

www.google.com

www.adaptis.io

www.marketo.com

www.neoglobaldigital.com

www.quora.com

www.theguardian.com

www.gallucci.net

www.linkedin.com/pulse