Best SEM Competitive Tools for Use

If you love your competitors, what else could be best than the below following Competitive Analysis Tools for your Business.
There are tools which gives you an opportunity of using the trial version only once. So please make sure you learn the best, and then want the Pro version, go for it. But never let your one-time trial be lost in vain.
Note – The best way to learn is always by clicking the ? mark wherever it's shown.

SIMILARWEB.COM – Free 24-Hours Trial

Research tool that helps analyzing yours as well as competitors' traffic and identify growth opportunities online.
There are 8 categories to refer:
• Overview – Includes website ranks, weekly traffic reach in last 12 months, share of traffic from different Digital Marketing Channels as well as from different subdomains
• Geo – Leading countries list, in terms of traffic share, page views, time on site & bounce rate
• Referrals – You can find out the best performing referral sites, and how you can use it to your business growth
• Search – This is important, as it suggest best performing Organic + Paid keywords with traffic from different search engine sources and search traffic channels
• Social – the leading social sites for your website traffic, and best use of it to improve engagement, interaction and experience
• Display – This tab is unique, as in many of the competitor analysis website, they don't share stats on display advertising. An addition button to click " Show the Ads" to view your different image ads running online.
• Audience – Understand user's audience, interest topics and also the other similar list of sites visited by the same audience.
• Similar Sites – This are the list of your competitor names
ISPIONAGE.COM
Prominent to US, UK & CA websites while dividing the performance with relation to Google & Yahoo/Bing search engine. All the stats are confined to 10 results, and to view all, you've buy a Pro version of this tool.
There are 7 important category tabs to refer;
• Summary – Performance stats from PPC vs SEO from search engine point of view
• Ads – This is a useful tab, as you can type in your competitor sites to understand their ads strategy, and rough estimates to conclude on performance
• PPC Keywords – Displays the top 10 keywords w.r.t Keyword effectiveness index, CPC, Avg Search volume, Pos, days seen, first seen, last seen. Also there is a tab to narrow down your results by adding filters to your given criteria
• SEO Keywords
• Competitors – PPC competitors list to SEO competitor list separately
• Social Mention – primarily for Facebook & Twitter account performance
• Compare – As competitor analysis tool are more about comparing, the results are very important as far as you know your competitors well
KEYWORDSPY.COM – Take a Free Trial
How different is this tool compare to the above 2 tools;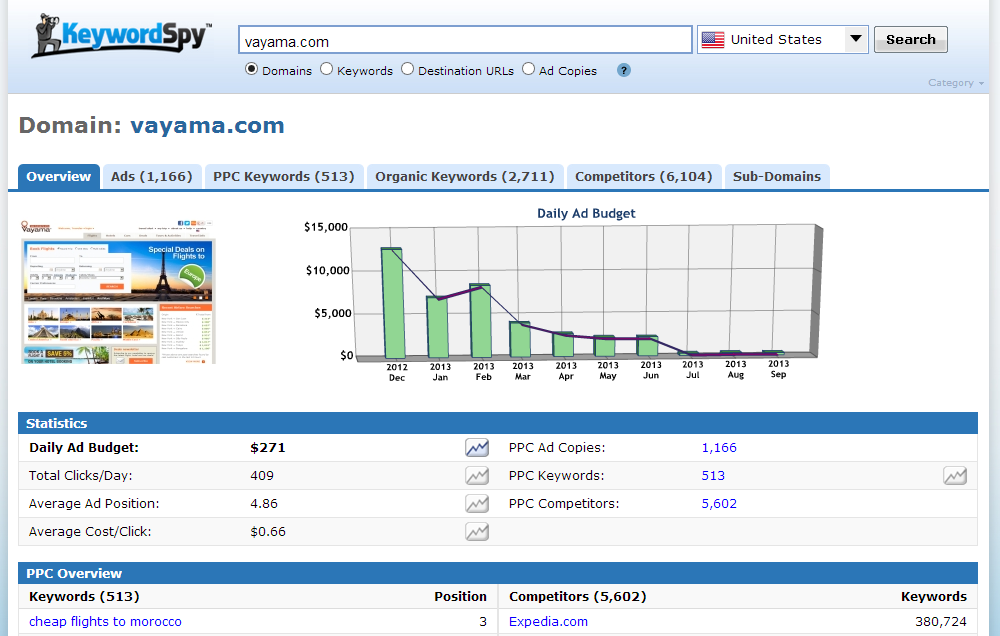 • A Daily Ad Budget graph in the top
• It shows you the organic listing variations for top performing pages
• In Ad Category, there is time mentioned as to what time the ads displayed last time; so that gives you a click to understand the point of time a given ads is more prominently displayed by your competitor
• You can click on destination URLs tab to understand the navigation & usability of the page to draw out better landing page optimization around those similar content URLs.
SPYFU.COM – Try it Free
Results are to US & UK. In trial version, you can only use the Classic Tab. You can enter a domain name or preferred keywords to see the results. Every tool has some uniqueness hidden inside it. You just have to play and practise to unleash it's potential. This tool is a bit different than to others.
Some important techniques to learn from this tool are;
• On the right side, Top Ads section has got this 2 beautiful features "% in Top of Page" & "Avg. Ad Position', which is very useful to understand your competitors strength and strategize your ads accordingly

• Most profitable Ads & Keywords section shows stats for last 12 months, while giving an opportunity to show performing adcopies around a given keywords when clicked on the color shade option
• Click on highlight button for a given ads to see the results!
• Try with a keyword name for Spyfu analysis, you'll find 2 awesome features to learn a lot;
o "Most successful advertisers and their best ads" feature
o Organic search ranking analysis – top 50
o Ads list created by different competitors. You can learn a lot by referring this adcopies.
SEMRUSH.COM
This tool is also very dear to me, as the insights are pretty good and dense too. You can select 10 different country location analysis around Google & Bing!
8 different categories having its own importance. If you click on any given keyword term, then it throws you more intense data to understand the performance better.
CONCLUSIONS
All these competitor analysis tools stats are not 100% data correct.
Secondly, if your brand exists in those selective country locations, then the closeness of the stats/data shown in the interface is higher in order to come up with some constructive strategy
You get to know, how a Brand performs w.r.t different Marketing Channel sources
You are ready with your top list of Competitors name, who are done well in equivalent to you, and how to improvise then…
Find the list of PPC or SEO keywords that performs well either for you or your competitors
Check different ad variations used for PPC either by your or your competitors. What variations do they use from keyword to keywords, how well written are the adcopies, which adcopies were live or switched off during a given time-period
Few of the tools shows Organic ads rankings and performance for targeted keywords
It also throws light on Display Advertising, demographics, search share etc.,
You also get to know a particular CPC share, ranking, Ad positioning, CTR, Clicks etc.,
You can also under seasonality of your campaign, as few of the tools show performance for last 12 months
Graphical chart representation to better understand the performance. This also gives you an idea, as to Chart types that you should use in your regular presentation slides
Most of the tools manages to show the Top 10 list performance results when chosen a particular tab, and for more you've to go for PRO version
At last, certainly not the least, it gives you ideas on your Competitor action steps that you can analyze, understand and use it as your strength to improvise your Digital Marketing performance